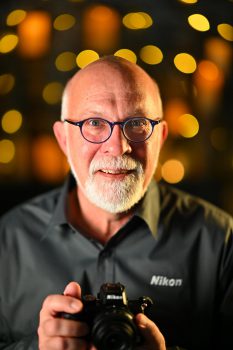 Bob Watts, after a 37 year career with Nikon Cameras, has recently retired and is enjoying the benefits of it all.  "Everyday is a Saturday!" Is his mantra

He was responsible for the Nikon accounts in virtually all of New England and also Upstate NY. He calculates that he has made over a million photographs throughout his career.

Bob has recently been asked to be on the Board of Directors of "The Museum of Old Newbury" based in Newburyport, MA. A 145 year old organization, with quite a collection along with owning some of the first photographs made in America in 1839

Bob has been on the Board of Director's for 20 years and recently became the Vice President of the 68 year old "National Society for the Preservation of Covered Bridges". Founded in 1954 and the publishers of "The World Guide to Covered Bridges".

Bob received a Bachelor of Fine Arts degree from Alfred University, Alfred, NY in 1976
Today, Bob is actively making photographs, working on personal projects and being creative.